OPTIMA® Biological Microscope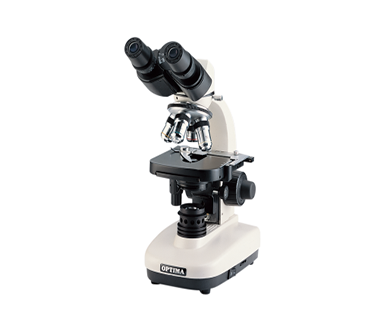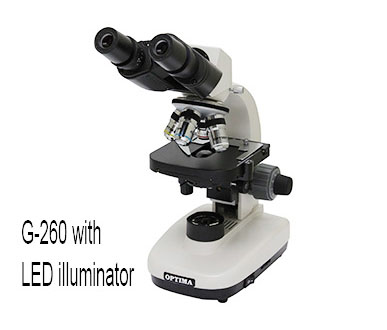 Model:G-206
The OPTIMA® biological microscope G-206 is a standardized optical instrument. It is equipped with achromatic objectives and wide field eyepieces. The structure of G-206 is simple, easy to operate and maintenance. The model is beautiful and dignified. G-206 is the ideal instrument for the beginner or school educational application.
Download
Add to inquiry
Features
• G-206 is equipped with wide field eyepieces.
• The light source is continuously adjustable with halogen lamp.
• The main body is made of aluminum alloy and the structure is stable.
• By the excellent optical system, it can obtain a wide field, sharp contrast and comfortable view.
Specification
| | |
| --- | --- |
| Model | G-206 |
| Observation tube | Binocular head inclined at 45˚ |
| Interpupillary distance | From 55-75mm |
| Focusing | Coaxial focusing knob, coarse focusing range is 15mm and fine focusing is graduated in increment of 2.5μm |
| Stage | Mechanical stage, size 120 x 125mm with moving range 35 x 75mm |
| Eyepiece | WF10X/18 |
| Objective | Achromatic 4X, 10X, 40X (spring), 100X (spring) oil |
| Condenser | N.A. 1.25 Abbe condenser with iris diaphragm and filter holder |
| Illumination | 6V15W halogen lamp with adjustable light intensity |
| Power supply | 110/220V switchable |
| Standard accessories | Dust cover, blue and green filters, backup lamp, plano-concave mirror |
| Optional accessories | WF10X/18 eyepiece with 10/100mm scale, WF15X eyepiece, 20X objective |